7 REASONS WHY CELEBRITIES PREFER THIS NEW BEARD TREATMENT OVER BEARD TRANSPLANTS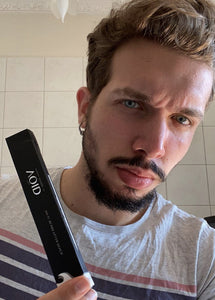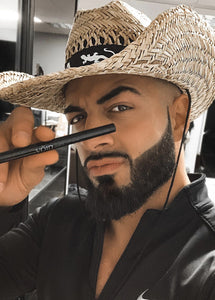 As recommended by:
Like most men, there's a high chance that you've struggled with beard patches in the past. Getting the perfectly uniform, patch-free and well-defined beard as seen by almost all of Hollywood's most attractive celebrities, GQ's most hypnotising models and Instagram's most favoured influencers, is something 99% of us have envied at least once. We're all too aware of how drastically, even just a lightly sprinkled face of evenly distributed stubble, can enhance a man's jawline, highlight his masculine facial features and make him extremely physically desirable. Honestly, just look at Dan Bilzerian's transformation from a pre-pubescent-looking regular joe to a playboy superhero chick-magnet model. And all thanks to his iconically sculpted mane.
The first impression facial hair gives off about a man and it's influence on his attractiveness in addition to his own self confidence, at this point - is undeniable.
If that's not you (yet) and you don't fall into the 1% - the genetically gifted - who at birth were granted the genes to a perfectly flourished beard and moustache by their late teens, then look no further. Meet VOID Homme. It's the best-known, at-home beard-filling solution in celebrity circles, granting all men - regardless of genetics - a fuller, patch-free & perfectly defined beard - all within seconds of use. But just because celebrities use it, doesn't mean you don't deserve the same access to professional level beard hacks like this. (And don't worry, you don't need a celebrity budget to afford it. Keep reading)
Here are 7 reasons why celebrities choose VOID every single time: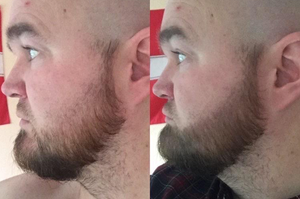 1. It works! Our 1000's of 5-star reviews prove it.
Celebrities can't afford to be caught on camera with anything less than a full, perfectly sculpted beard AKA looking their very best. That's why they turn to VOID. See for yourself why 75,000+ men have switched to VOID and keep coming back! Celebrities trust us for their camera-ready beards, and so can you.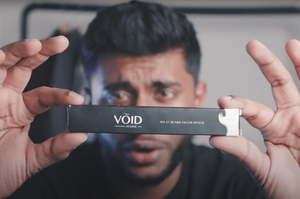 2. VOID is less expensive than alternatives.. by a lot!
If you struggle with beard patches, you'll normally pay between $4000 to $10000 for one single beard transplant treatment by a specialist, which may include health risks and complicated side effects. And your results may not be any better than using an affordable, safe & instant alternative: VOID Beard Filler. VOID costs less than £9 and has a 99% satisfaction rating.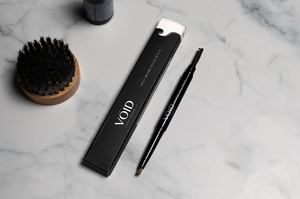 3. Easy to use – no complicated steps.
Anybody can use VOID – it's so easy! Each device comes with everything you need for instant results. 1 Filling pencil and 1 blending brush attached on the opposite end. All you have to do is apply the pencil to areas of patches and then brush it over to naturally fade it into your existing hair. If you want to define the shape then apply along the top of your beard to get a perfectly straight line and then blend downwards into your beard.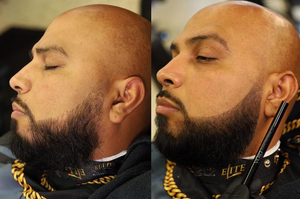 4. You'll see immediate results, that's right.. in seconds (not days or months)
99% see results after just 30 seconds. 100% See long-lasting results after a few uses, as they perfect their technique – it's literally that fast. You don't need to clear your schedule or interrupt your day for an expensive treatment either – you only need 1 minute of your day. Yes! That's all it takes. Another reason that using VOID is a no-brainer (and celebrity secret) for getting the fullest beard possible.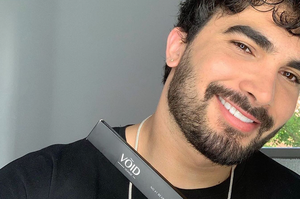 5. Ultra-Realistic Hair solution: It's Natural-Looking and Discreet
VOID advanced blending technology means you can cover patches perfectly whilst looking 100% natural (No Obvious pencil marks, smudges or running), so that no one will question your newly perfected beard – The same reason you've probably never questioned how celebs always have patch-free & perfect beards until now!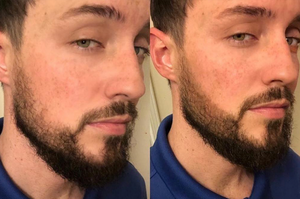 6. Lasts all day long, no matter what or where you go!
VOID is Waterproof & Smudge proof so you can be sure your beard will stay exactly the way you left it in the morning regardless of if you are going to the gym, to work or for a date night in the rain!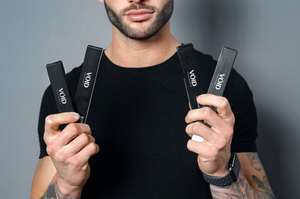 7. Risk-free Purchase
When you use VOID your results are guaranteed. And it comes with a free-return warranty in case you don't absolutely love your kit. You can feel safe and comfortable with your order, with free complimentary shipping available too.
REAL REVIEWS. REAL RESULTS.
RESULTS VERY TYPICAL
Products do what they say – Amazing
Genuinely a life saver. Works perfectly with anything from stubble to thick beard.
The best beard filler on the market. Long-lasting, no mess, looks fantastic. I will be a consistent customer.
I purchased the beard pencil in 2019 & have been using it daily since I received it. The product is excellent. versatile and functions exactly as advertised."
Made me look 10 years younger and makes you feel good
I was skeptical before & said to myself there's another gimmic but im blown away how it really makes a difference & does just as described